The Hot Yoga Spot offers 200 weekly sessions across our five New York locations.
Below, find information on our beginner-level sessions as well as descriptions for our most popular hot yoga and fitness sessions. In addition to the styles listed below, we offer specialty classes that fuse various aspects and styles to create a robust assortment of classes. To view our different locations and see the schedule offered at each studio, click here.
Beginner Sessions
The Hot Yoga Spot offers an assortment of beginner-level classes that move at a slower pace, include pose description and demonstration, and teach the foundational poses of yoga. Some beginner-level classes on our schedule that are perfect to try when you are new to the world of yoga are Gentle Yoga, Yoga Flow, Flexibility Flow, Slow Flow, and Yoga Detox.
Beginner Level. Temperature: 90 Degrees.
Baptiste Yoga
Baptiste Yoga is an accessible yet challenging yoga style that combines elements from Bikram, Ashtanga, and Iyengar yoga. This fast-flowing session leads to a state of transformation that sculpts and tones both your body and mind. Baptiste is taught in a hot room to warm and cleanse the body.
Intermediate Level. Temperature: 95-100 Degrees.
Barkan Yoga
The Barkan Method is an intermediate-level class that was created by Jimmy Barkan as a mixture of hatha and vinyasa yoga. This yoga class consists of a series of many of the familiar 26 postures from Bikram hot yoga integrated with postures from other vinyasa styles. Barkan Yoga is designed to stretch, strengthen, and balance the different areas of the body and mind to restore all systems to optimal health.
Intermediate Level. Temperature: 100 Degrees.
Barre Bootcamp
High-intensity meets low-impact in this challenging fitness class that is designed for all levels. Barre will strengthen and lengthen every muscle in your body by combining elements from traditional yoga, ballet, sports conditioning, cardio intervals, and Pilates. This class is set to upbeat music and follows a vigorous pace, moving through different mat exercises and barre sequences to pump you up and slim you down. Watch your body quickly transform as every class inspires you to reach your full potential. This session is a tough workout taught in a warm room and no prior experience with ballet or barre is needed.
All Fitness Levels. Temperature: 80-90 Degrees.
Bikram Yoga
Bikram Yoga is a set 26 postures taught with two specific breathing exercises and practiced in a very hot room. Bikram Yoga maintains the same sequence in each class so you can develop awareness and appreciation for how you develop and grow — both physically and mentally — throughout your practice. The Bikram hot yoga sequence was designed to systematically work every body part, including internal organs, ligaments, veins, and muscles so they can maintain optimal health. Each posture of the sequence accomplishes something different in the body and they all work synergistically to help the body perform at its best. The postures are taught in stages so they are accessible for all levels but the intense heat makes it a very challenging class.
All Fitness Levels. Temperature: 105 Degrees.
Hot HIIT
Ignite your inner fire and get fit while having fun. The Hot Yoga Spot's HIIT classes are high-intensity interval training combined with the simplicity of body weight movements and light weights to step up your training. Hot HIIT classes begin and end with a brief yoga warm-up and cool-down to keep you flexible and injury-free. Each unique session incorporates different training methods and movements to achieve the best results for your hard work. With several high-intensity segments during each class, you will work in peak cardiovascular zones and burn maximum calories. Classes are scalable for all levels of experience and are taught in regular room temperature. Ignite your inner fire, build your best body, get fired up, burn calories, and get stronger!
All Fitness Levels. Temperature: 85 Degrees.
Iron Yoga
Iron Yoga is a unique class that combines the stretching and lengthening benefits of yoga with the strengthening and toning benefits of weightlifting. Iron Yoga fuses a powerful and athletic yoga flow with lightweight dumbbells to provide an invigorating practice and total body workout. This session is a challenging workout for all fitness levels and combines strengthening and lengthening to reshape your body and relax your mind.
Intermediate Level. Temperature: 90-95 Degrees.
Power Yoga
Power Yoga explores faster flows and more challenging poses than our beginner-level classes. This vinyasa class focuses on building strength and increasing flexibility as you leap into the world of power yoga. This invigorating class will provide a challenging workout that ends with brief relaxation to allow the body and mind to integrate and restore after class.
Intermediate Level. Temperature: 90-95 Degrees.
Vinyasa Flow
Refresh, restore, and rejuvenate in a hot vinyasa flow that is suitable for all levels of experience. This hot yoga class offers students a playful, fun, and motivating practice that will help you gain a stronger sense of body awareness and correct alignment. Flows are designed for all levels and more advanced poses are taught in stages so everyone can grow and challenge themselves in a safe way.
Each teacher will bring their own passion and unique style to this session. The style and intensity of each session may differ depending on who is instructing the class and the overall level of students participating.
All Fitness Levels. Temperature: 90-95 Degrees.
Yin Yoga
Yin Yoga is a slower-paced yoga class with poses that are held for longer periods of time. The postures in this class are enjoyed for two to six minutes. Yin poses apply moderate stress to the connective tissues — the tendons, fascia, and ligaments — with the aim of increasing circulation in the joints and improving flexibility.
All Fitness Levels. Temperature: Not Hot.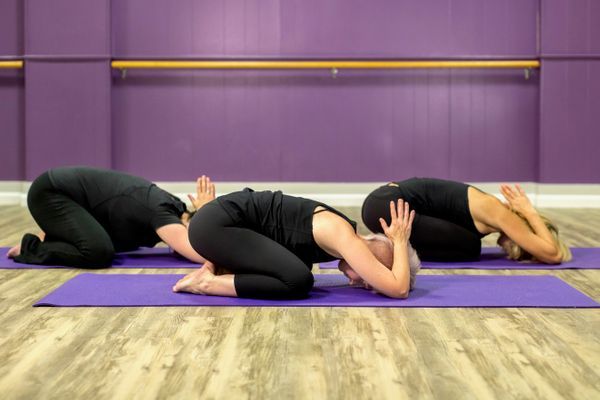 Beginner Classes
Perfect for new students with little to no experience
Classes include pose demonstration and description
Sessions move at a slower, more relaxing pace
Options include: Gentle Yoga, Flexibility Flow, Slow Flow, Yoga Flow, and Yoga Detox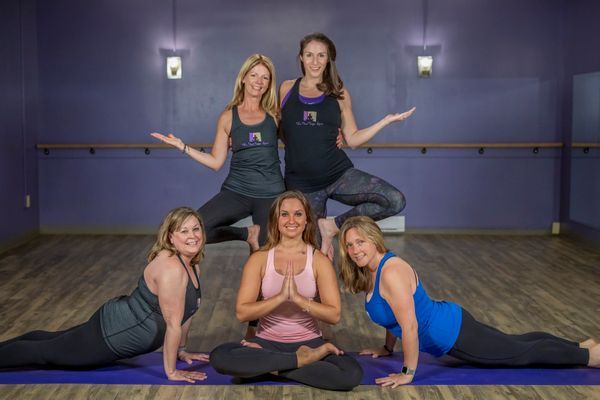 All Levels Classes
Perfect for both newer and experienced students
Modifications for everyone
Options include: Vinyasa, Release, Flow & Let Go, and Barre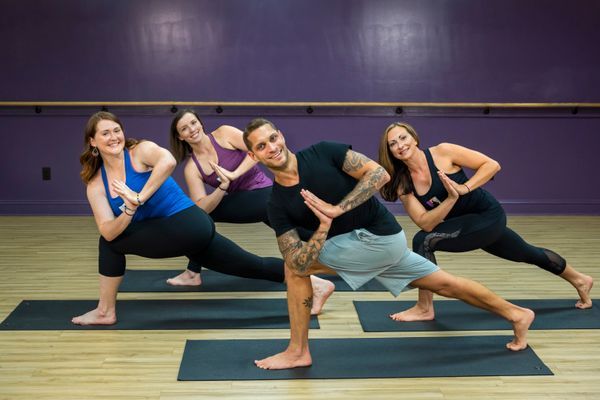 Intermediate & Advanced Classes
Sessions move at a quicker pace
More advanced postures and challenging options
Less pose description and demonstration
Options Include: Core Flow, Iron Yoga, Power Flow, Baptiste, Power Yoga, and Barkan.