Watch to Find Out Why People Love The Hot Yoga Spot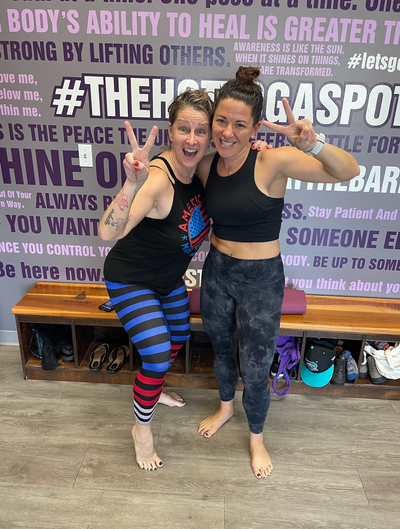 Casey G
Mechanicville, NY
Over the course of the last 6 months...and 100+ classes later, The Hot Yoga Spot (Jess & her very talented Team of instructors) have taught me how to breathe again. One breath at a time, inhale...exhale, I've redefined what fitness, wellness, self-care and grace means for me. I feel better, look better, and am stronger mentally and physically than ever before. Through a mix of classes, The Hot Yoga Spot offers an opportunity to practice and progress every time I roll out my mat...in a clean, supportive, informative, inspirational environment. Thank you, thank you, THANK YOU!
Casey joined The Hot Yoga Spot in 2023.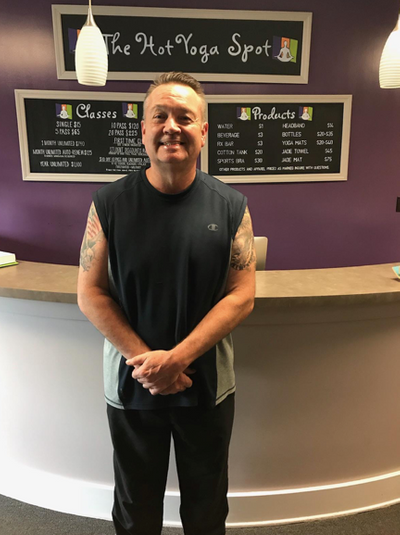 MIKE F.
Cohoes, NY
Bikram Yoga What did I get myself into? This is brutal. This is 90 minutes long? Is there a clock so I can tell how long I have to do this? My face is red. Mama give me money? I can't even remember the name of this class but I am never taking it again.
From what I can remember, these were some of my thoughts from 2 years ago when I took my first Bikram class at The Hot Yoga Spot and started my yoga practice. I can remember going home, wasted and exhausted, slumped in a chair still sweating. But I can also remember feeling loose and limber, like a cooked noodle, my body free from any tightness. My back felt like it was unlocked from top to bottom. There was no pain of any sort and in a way it was euphoric. I had never felt like this before. I wanted to feel this sensation again. So I went back to find that euphoric state. Now I go every Wednesday at 5:30 where Bethany guides us through the 90 minutes of Bikram.
I knew nothing about yoga except what I saw on t.v. or in movies, slender people twisting their bodies into shapes that looked uncomfortable to look at. I started taking yoga because I knew as I got older flexibility would be beneficial to my health. My journey has moved far beyond a simple intent to obtain some flexibility. In my first class I was just trying to survive. Now I do things I never thought I could do, and someday I will be able to do even more. My circulation has improved dramatically, my body feels naturally warm all the time, and people are noticing changes in my appearance. I look leaner, I have more energy, I feel stronger, and more connected to my body. Growing up, I was a heavy kid who was bullied a lot and that made me conscious about my body. But today, in Bikram or any other hot yoga class, I don't wear a shirt. It's not because I have a great body. It is because I don't want any restrictions and I want to feel every movement, every breath, every posture and enjoy every connection that is possible to my mind and body.
Bikram has been about the little things- small details and small adjustments. Each time I take a Bikram class I hear something new, an instruction I've never heard before, and when I adjust to the new instruction, the pose changes, and the sensations change. The next time I take a class, I will hear something new, and adjust to that change. Each class has its own experience and it all happens on a yoga mat where all you have to do is show up and breathe. I do not go into a class with the intent of trying to hold a pose from start to finish, I just let it happen without judgement or concern. Whatever happens was meant to happen, so I embrace and appreciate what I can do that day and pay no mind to what I cannot do.
I started my practice over two years ago but I feel 10 years younger. Yoga is my Fountain of Youth. I feel honored to share my journey and would like to thank everyone at The Hot Yoga Spot for an incredible experience each and every time I step on my mat.
Mike joined The Hot Yoga Spot in 2013.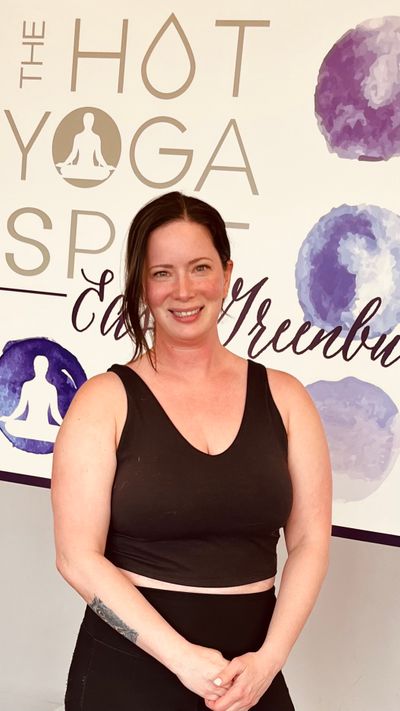 Amanda R
Castleton, NY
I have been a steady regular since November in trying to achieve 5 classes/week. Give or take a few, haha. Your studio has provided me with a healthy outlet. Not only am I celebrating the achievements of my physical results but also the growth of my gratitude, mind, and spirit. I admire all things (small and big) hot yoga has provided me. Your instructors are all knowledgeable and inspiring. I've come to realize how one class benefits another and I am okay stepping outside of my comfort zone knowing I am in a trusting and safe environment.
Up until seven years ago, I was very active. Then, I was diagnosed with degenerative disc disease, cervical/spinal stenosis, a reversed curvature in my neck, and arthritis. I was advised stop my activities to focus on corrective therapy. It took a couple years to get there. Needless to say, I became comfortable with not being as active.
Five months into hot yoga and I've restored my flexibility, strength, and my belief in myself that I am strong. My family has noticed the shift in my attitude and overall outlook in finding the positives again. The best part is knowing your staff helps remind me to stay safe and advocate for myself anytime.
My youngest daughter joins me on Mondays and is loving the class! My eldest daughter loves it, too! My husband promises he will give gentle yoga soon, hehe. My only regret is not joining your studio sooner!
Thank you for the offers, affordable packages, and everything forward of this relating to the options of classes, professional staff, and more!
I am looking forward to 100 more!
Amanda joined The Hot Yoga Spot in 2022.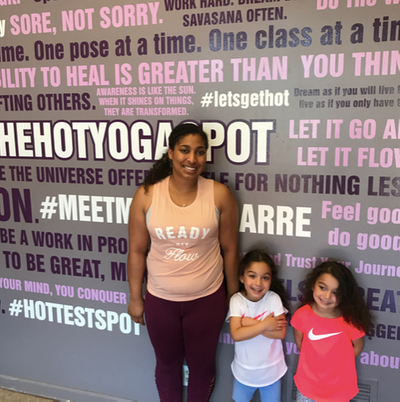 PRISCILLA M
Clifton Park, NY
The Hot Yoga Spot has really been life changing for me since starting in February, both physically and spiritually. I especially love being able to include the twins in my journey, they absolutely love it and it is becoming a way of life for us in our household. I hope to one day advance my practice to the instructor level like your teachers and to inspire positivity and so much more in others, like they have in me.
All of your instructors are great, I have never had a bad. Your teachers have connected with me on so many levels and I connect to their passion and intensity. Just wanted to send a quick note of gratitude!
Priscilla joined The Hot Yoga Spot in 2018.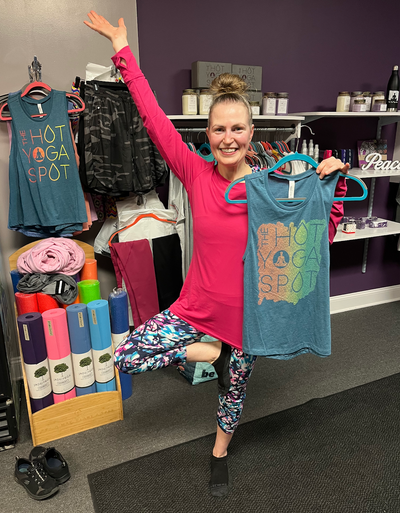 Anastasia S
East Greenbush, NY
I can't say enough great things about the Hot Yoga Spot. All of the instructors are incredible! They are all very knowledgeable and caring. Every instructor has their own unique style which makes it so fun. I never stop learning. I love the fact that there are so many different classes to choose from as well as locations. The owner of the Hot Yoga spot really cares about the patrons and considers them to be a "valued" member of their yoga community. I never really knew much about yoga when I first started. I am proud to say that I just renewed my second yearly membership and I feel truly blessed to have found this place.
Anastasia joined The Hot Yoga Spot in 2021.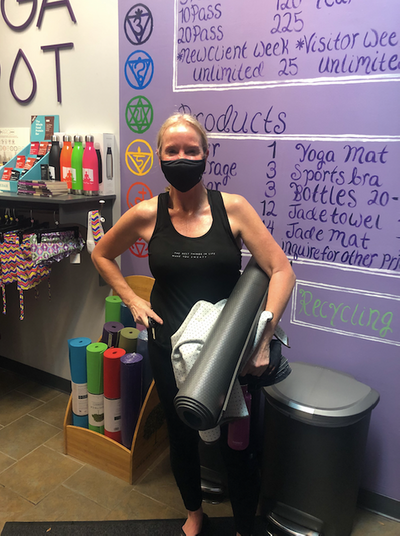 CATHLEEN M
Gansevoort, NY
Having picked yoga up only 1yr ago, I can say that it has made a profound difference in my life! As an athlete, two hip replacements and back surgery had me seriously (and sadly) questioning what would be possible for my future activity level.
Yoga has healed my body AND mind...I am a stronger and better person... mentally and physically... and I have zero limitations. I think an important part of my story is to encourage people to try practicing, despite thinking yoga is "out of reach" due to prior surgeries or physical limitations. Full expression of poses isn't necessary...I'm there with some and nowhere near it with others...being present in class is the gift!
Cathleen joined The Hot Yoga Spot in 2019.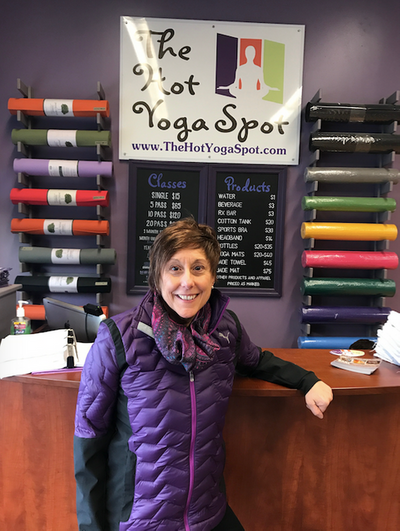 Adrienne H
Glenville, NY
As a teacher and working among other teaching professionals we rarely get complimented on the positive so it is important to me to let people know the good in this world. I want you to know that your staff at The Hot Yoga Spot is remarkable! I'm sure it is a tough decision when hiring, but your selection has proven to be fabulous!. I'm so impressed with the way they interact and connect with us individually. It is as if they have a sixth sense and can tell you need a spiritual "fix" as well because when I leave I truly feel I can handle what lays ahead. I have the pleasure of coming for class three times a week and would love to do even more. Each member of your team has very special qualities and I so enjoy my time spent in your studio. Thank you so much for what you do!
Adrienne joined The Hot Yoga Spot in 2016.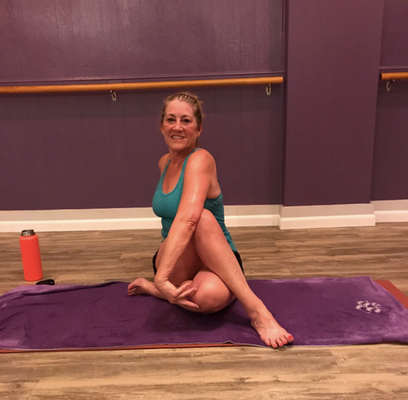 KATHLEEN C
Saratoga Springs, NY
Today I turn 65. As birthdays go, it's not an easy one. At 65, most of us have experienced a lot... some good.. some bad... some truly insignificant. And, let's face it, we're not young anymore. Our bodies are aging and life is changing. But I feel great!
At 58 I started yoga. Not any yoga but Bikram Yoga. I weighed at least 20 pounds more than what I do today, I had every menopausal symptom there is (hot flashes, sleeplessness, moodiness, you name it). I had back problems (bulging discs, Facets disease, sciatica), knee problems, high blood pressure, a malfunctioning thyroid, pvd in one leg and I was generally miserable. My doctors would say encouraging things like, "your knees are old, give them a break." Or, "why don't we try this medication next?" Then I went to a Bikram class simply because someone dared to say it would probably be too hard for me. Damn if I'd let that one go! And it was hard. My belly got in the way with most positions. I had no balance. I could barely arch my back and have learned that I have been standing wrong most of my life!
But I continued to go and little by little, things improved. It's still hard. Some days I don't feel like being there but when I'm done it's truly remarkable. I have much more energy than I did 10 years ago, I'm stronger and I'm more mentally alert. I know there are plenty of people my age who do yoga but it was life changing for me and I can now embrace getting older.... kind of! I encourage everyone to try it. The only obstacle is yourself.
Kathleen joined The Hot Yoga Spot in 2010.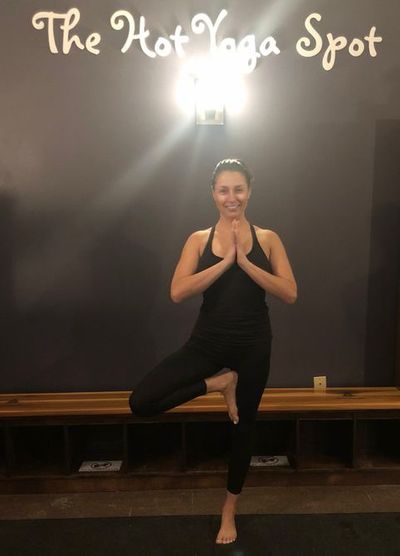 DORA P
Burnt Hills, NY
Being a member since 2016, my journey with THYS has been transformative and has changed my life in ways I could not have imagined.
I walked in on a whim, on a cold day in March. Still carrying baby weight from 2012, completely insecure. Out-of-shape with terribly low self-esteem. I didn't realize it at the time but I was in a constant state of malaise, dealing with low-grade depression.
My fertility journey was a difficult one with 4 miscarriages under my belt. While that was in my rear view mirror and I was entirely grateful for my beautiful children, the pregnancies had wreaked havoc on my body and I was still trying to pick up the pieces.
I was always naturally thin and never had too work that hard to maintain my figure. I was very fortunate. So being in this foreign body was secretly devastating to me. I didn't feel l had the right to 'complain' or feel a loss because look how lucky I was to have my babies.
The first class I took was a Barre class with Katie in Clifton Park, (which has become my 'home base' studio out of the five). Beautiful, bubbly Katie is a professionally trained former NYC ballerina and legitimately kicked my butt to kingdom come. I immediately realized, this was going to be a journey. I had a long way to go. After class, I apologized to Katie as I felt embarrassed for my performance in class. She was immediately encouraging, telling me how great I did. She offered to message the owner and change my single class payment into their $25 unlimited for one week to try out more classes and see how I liked it. She got a returned message as I was standing there, saying 'Of course! She's all set''. And that's all it took. That one returned message set into motion what turned out to be one of the defining moments in my life.
Since 2016, I have been on my mat, hundreds and hundreds and hundreds of times. I have attended countless workshops. Yoga is a tremendous part of my life. THYS has gotten me into the best shape of my life. My confidence has been restored. I no longer feel like a stranger in my own skin. The mind-body benefits of yoga have also helped to lift my depression, manage my anxiety and I've gained a clarity I never had.
Perhaps one of the most important benefits to my well-being has been the community I have found at THYS. The community they have built is everything. I have met some of my best friends in the world through the studio. I am surrounded by like minded-individuals who have similar personal goals. I feel challenged while also feeling supported and nurtured by the amazing teachers. It's hard to describe the significance effectively but I liken the impact of THYS to turning my world into technicolor from black and white.
Whatever force that led me to the studio on that cold day in March 2016, I am eternally grateful to and bow my head in reverence. I thank my lucky stars every day because I can't imagine not having the studio in my life. The teachers and the community have given me so, so much - it's hard to not get emotional about it. ❤️
The full circle moment for me is being able to bring my daughters to the studio and exposing them to the practice. It's where they be themselves, free of judgement. Working on their mindfulness, meditation and asana. Giving them this gift of exposure to THYS and the fun classes for kids has been fulfilling to me in such a deep, pivotal way.
We even recently had their birthday parties in the Albany location's aerial studio and mini açaí bowl treats at Bare! My girls and all their friends had a blast! I received so many messages from parents saying it was the best birthday their child had attended in a long time.
I will be forever indebted to THYS. They have changed my life as they have changed countless lives. So incredibly grateful. Namaste. ❤️🙏🏻
Dora joined The Hot Yoga Spot in 2016.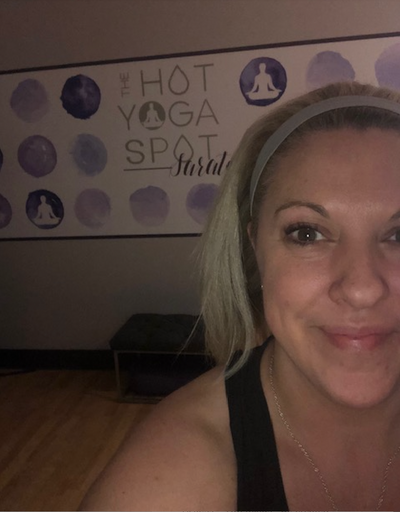 Alison D
Saratoga Springs, NY
The Hot Yoga Spot is an amazing place to get your body moving and your mind clear. There's really nothing like it! I have been doing it consistently for over a year now and would totally recommend it. Nothing like a warm room on a cold day and the teachers are awesome!
Alison joined The Hot Yoga Spot in 2021.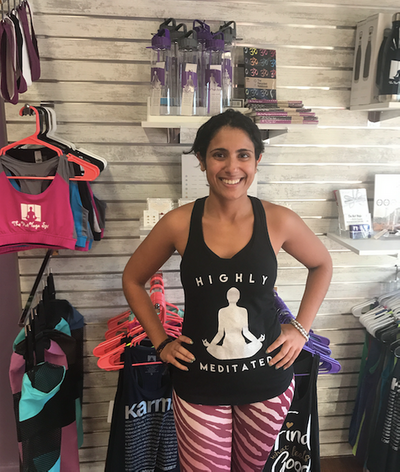 FATIMA H
Guilderland, NY
The Hot Yoga Spot is so much more than a yoga studio and it has given me so much more than just the opportunity to have my practice led by an amazing team of teachers. My body has never felt (or looked) better than it has since I started going to THYS, but that's not what keeps me coming back several times a week.
Without any exaggeration whatsoever, I can say that this place is like a second home for me, the community members are my family, and literally every class that I go to feels like a gathering of friends. Every teacher I've taken a class with has been absolutely wonderful, each of the studio locations I have been to is a beautiful, welcoming space, and I can't imagine what my life would even look like if I hadn't found this place. The people I have met here, both teachers and students, have completely changed my life for the better.
There are countless studios and gyms in the Capital Region that you can go to if you just want to take a yoga class or a fitness class and then leave and go about your life and not think twice about the hour you spent in that room practicing or working out. But THYS is the only place I have found that both allows you to do that, if that's what you really want, but also allows you the opportunity to forge lasting friendships, have a safe space to cry when you're struggling or laugh when you're thriving, and really be a part of something incredibly powerful and so much bigger than yourself. This place saves my life every single day, and for that I can never adequately express my gratitude.
Fatima joined The Hot Yoga Spot in 2017.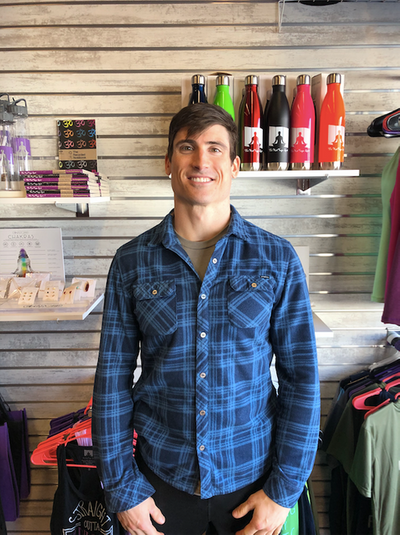 KEVIN S.
Niskayuna, NY
The most powerful testimonial I can give for The Hot Yoga Spot would be the crucial role it played in helping me, and therefore my team Superhero Crossfit, qualify and compete in the 2015 Reebok Crossfit games. Before yoga I was all go go go. I had yet to learn the importance of breath and internal state for athletic performance. Since taking regular hot yoga classes (which I first did for mobility gains) my breath control and therefore performance in the gym has skyrocketed. I soon began approaching the barbell in the same frame of mind that I would approach my yoga practice. This seemingly small change resulted in massive strength and conditioning improvements over time.
The mobility I've gained from yoga can not be overlooked. However, breath control and awareness of internal state as a performance booster is by far the most important thing The Hot Yoga Spot has done for me. Change your breath, change your life. At least it did for me.
Kevin joined The Hot Yoga Spot in 2011.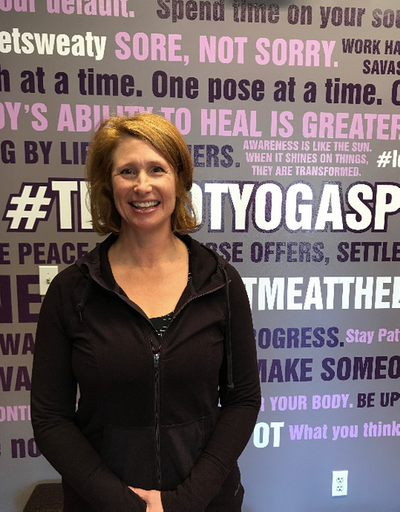 Kate G
Albany, NY
Joined to lose, ended up gaining so much more.
I hope the title didn't scare you away and you are still reading this! I joined The Hot Yoga Spot in the spring and would attend one class a week. My fiancé and I are getting married in September so once July hit I really stepped up my game with my goal being to get myself "wedding ready". Well, I got myself wedding ready and so much more. I started out taking the barre and ignite classes which were getting my physical body in check, but then I added Baptise yoga to my routine. Back in July my definition of "wedding ready" was "fit in the dress!" Now I see it is so much more and I have The Hot Yoga Spot to thank. I gained a community and a family which not only has impacted my physical body but has impacted my mind, heart, and soul. I didn't even know I was missing something but I found "it" in Baptise. The Hot Yoga Spot has so much to offer and everyone welcomes you with a smile and support. I have so much to be grateful for, and The Hot Yoga Spot is on the top of my list.
Kate joined The Hot Yoga Spot in 2018.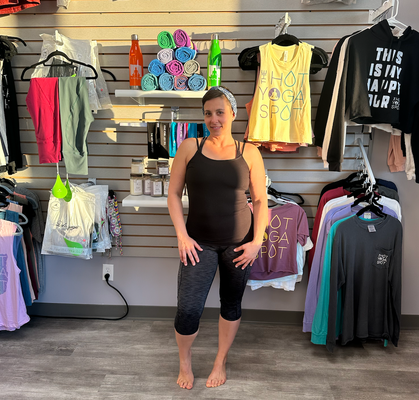 Maria F
East Greenbush, NY
Thank you guys for being awesome! I love hot yoga and I have never felt so good about myself! If my 20 year old self could see me now!
Maria joined The Hot Yoga Spot in 2019.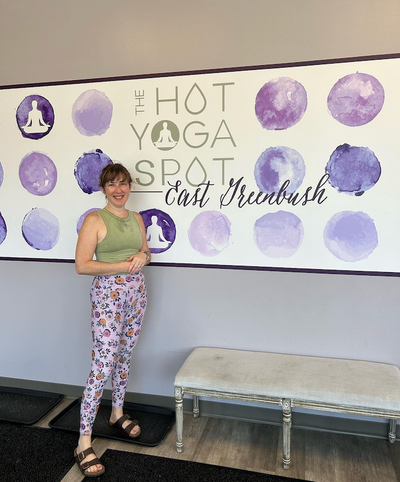 Jennifer O.
East Greenbush, NY
800 classes in and so grateful for The Hot Yoga Spot studios and community! Thank you to all the fabulous instructors who have guided my practice.
Jennifer joined The Hot Yoga Spot in 2016.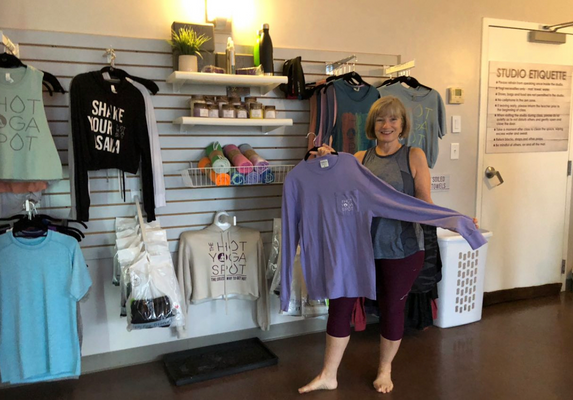 Maureen B
Latham, NY
I have been going to The Hot Yoga Spot for 7 years. The classes are amazing and the instructors are wonderful. There are a variety of classes to choose from. I always feel so much better after taking a class … so therapeutic and good for the joints. I highly recommend The Hot Yoga Spot…. You can go to any location which is very handy.
Maureen joined The Hot Yoga Spot in 2016.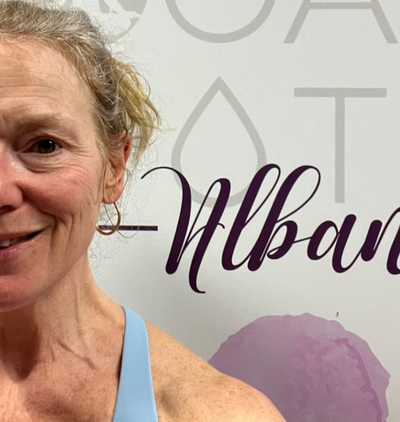 Silvia L
Albany, NY
I took my first yoga class in 6th grade (a VERY long time ago) as part of an after school program and immediately loved it. As an adult, I was a sporadic yogi, taking classes perhaps a couple of times a month in the evening at the JCCC or in local parks during warmer months. It took becoming a member of The Hot Yoga Spot in 2012 to convince me to commit to a regular practice. Since joining THYS I've taken more than 575 (!) in person classes scattered between 3 convenient locations, as well countless virtual classes during the pandemic. I've also enjoyed pop up classes at the Empire State Plaza, beer yoga at Fort Orange Brewing, Yogapalooza and Tulip Fest weekend special events. There's ALWAYS a class that interests me and fits into my schedule. The studios are clean, the instructors are warm and professional and my yoga practice has greatly improved. I never imagined mastering chaturanga, crow and headstands, but, here I am with each of them under my belt. Bird of paradise - I'm coming for you and getting closer every time! The Unlimited membership I've purchased the last few years has been some of the best money I've spent - bonus that my health insurance company CDPHP picks up $400 of my membership fee. Win-win. I can't imagine belonging to another studio. #thehotyogaspotlifeforever
Silvia joined The Hot Yoga Spot in 2012.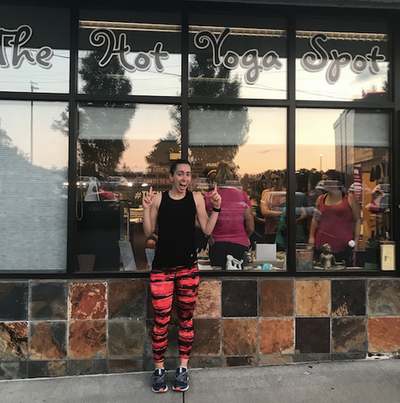 KATHRYN R
Albany, NY
I can't even begin to express the gratitude I have for The Hot Yoga Spot community. I have been coming to this great space for 5 years now and I truly feel I have found a second home within these walls. To know the instructors here is to love them, and each one brings something very special to the practice. The kindness, sensitivity, and passion offered by these instructors is unmatched.
In the past few years I have branched out from my usual yoga classes to embrace other classes offered at The Hot Yoga Spot such as barre bootcamp and ignite. I love going to all the different studios around the capital region and the minute I walk through the doors, I am always greeted with a warm welcome and a smiling face. The class variety is just what I need physically, although exercise to me has become so much more than that. At The Hot Yoga Spot I have learned about the mental aspect of exercise that includes breath and meditation in my yoga classes, and determination and perseverance in my barre classes. My focus on exercise has shifted to doing what makes me feel strong and at my best. The time spent between the four corners of my yoga mat have provided me with so many life lessons, and it has truly been a great journey so far. I cannot wait to see what the future holds.
I have learned that we should never miss an opportunity to tell people how much they mean to us, so thank you, Hot Yoga Spot community, for giving me a space to love and to grow, I am forever grateful!
Kathryn joined The Hot Yoga Spot in 2014.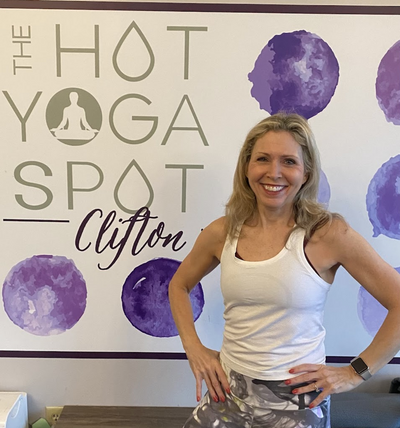 Lisa R
Clifton Park, NY
I 💕 The Hot Yoga Spot and have been attending classes for 10 years! And a special shot out to the Clifton Park location as my go to spot. It's the best way to jump start or end my day.
Lisa joined The Hot Yoga Spot in 2013.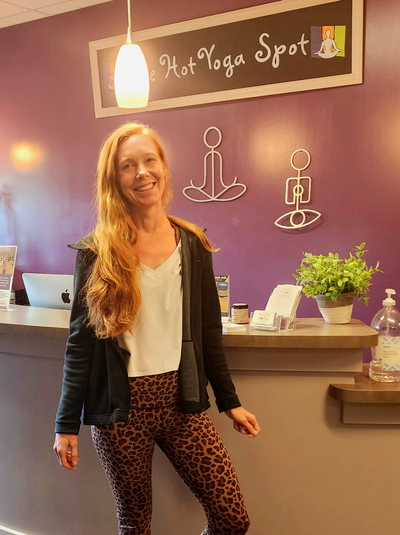 Mary G
Latham, NY
I am sure you hear this often (you ought to if you don't!) yet I just love The Hot Yoga Spot. I've been going as regularly as I can since September and my classes are a huge part of my self-care and overall mental wellness. All of the instructors I've had the opportunity to enjoy bring their own magic and love of the practice. A few I'd like to shout out are some of the Latham crew Deb, Emily, and Paul (who just subbed for Emily last Thursday). I feel so welcomed, loved and cared for with these amazing instructors. You have such a phenomenal business and I am so grateful to be a part 🫶
Adrienne joined The Hot Yoga Spot in 2019.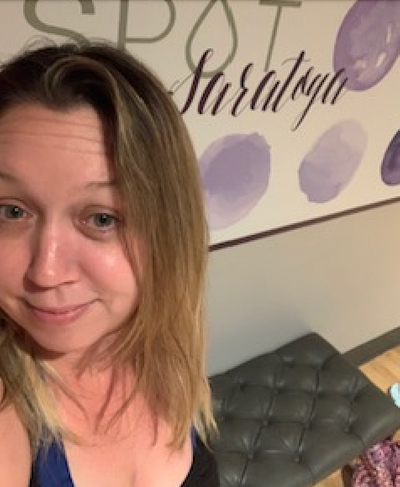 Courtney R
Gansevoort, NY
I honestly never knew how amazing yoga could be. I had never tried yoga until last year when my friend suggested we join together for some accountability and to change things up a bit. I figured I would try it. I have serious respect for yoga now as I have realized just how much of a workout it really is! It challenges your strength, endurance and balance as well as mental strength. After my first class, I was hooked. I love seeing the improvements you make over time. Bikram is great because you can literally see improvement each week. I have gained so much strength and balance in my life over the past year and I will be forever grateful that I decided to try something new. The yoga hot spot is great because the atmosphere is amazing, there are so many classes of varying levels that work for anyone and the owner is a pleasure to work with. I would suggest going out of your comfort zone and trying something new because you never know, you might just fall in love.
Courtey joined The Hot Yoga Spot in 2021.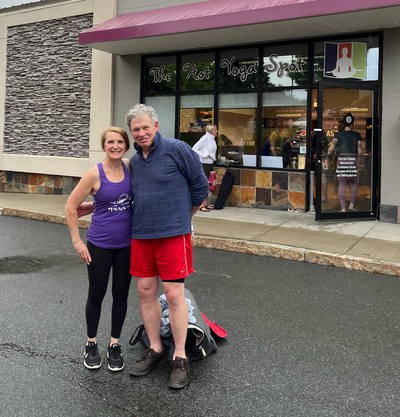 Thomas S
Clifton Park, NY
I have relished the Hot Yoga Spot. It's truly changed my life. I have been fortunate to have such great instructors: Amy, Sean, Mary Beth, Jeanine, Sarah H, Lynn. I am certain I am forgetting another fave. I don't know how I would have survived the pandemic without Amy. She's such a generous spirit.
Nothing can replace the experiences I have had and the friendships I have made through the Hot Yoga Spot.
I will always hold you, your studio, and your staff close to my heart.
Thomas joined The Hot Yoga Spot in 2018.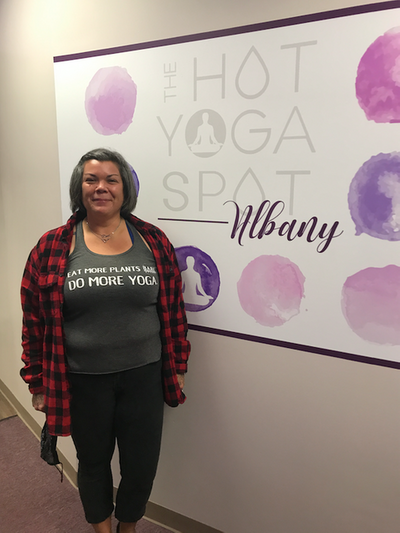 RENEE F
Albany, NY
Without CrossFit Shatter I would never have been introduced to The Hot Yoga Spot. My 1st real class was on a Thanksgiving morning at 7:00 a.m. It was in the negative temps outside and I was apprehensive not ever doing yoga before. But it was one of the best experiences I've ever had. From then on I became a regular at different classes like Kayla's Saturday morning gentle flow or with Sally on Thursday nights. Some of my greatest friends have been because of THYS. Now I even want to further my practice one day by starting with the 200 teacher training as soon as my schedule allows. For now, I will continue my practice and I love you Jessica and appreciate what you've created.
Renee joined The Hot Yoga Spot in 2014.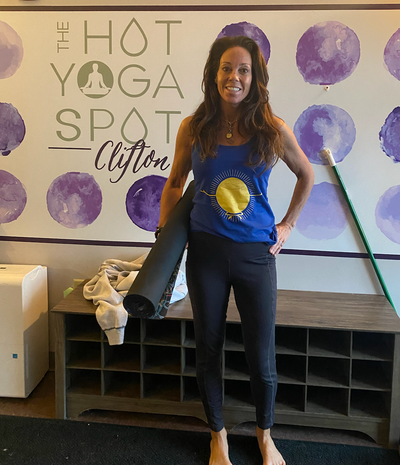 Tricia D
Clifton Park, NY
I cannot say enough about how grateful I am for the Hot Yoga Spot. The instructors are AMAZING, soul lifting, bright beams of light. They are dynamic human beings flowing with contagious energy, every time. It has become one of my favorite places to spend my time and to elevate my spirit. The instructors at that studio have become such beautiful bright lights to me. I am truly truly grateful to have this in my life. It's a sanctuary for the soul. ❤️💫🙏 Namaste
Tricia joined The Hot Yoga Spot in 2021.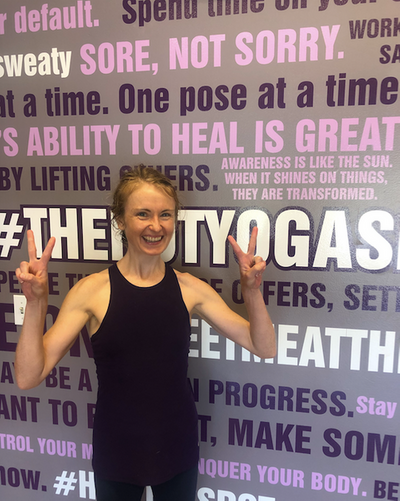 SHEILA H
Albany, NY
I just want to send you a quick message to let you know how much I appreciate The Hot Yoga Spot. I am now on day 3 of my vacation and do not have access to hot yoga. Needless to say, my body is throbbing from deprivation.
The pain reminds me, however, that I am so blessed to have The Hot Yoga Spot there when I return home.
There is a reason I come every day and do the work. The work enables me to both heal and grow- my mind and my human body. I often don't realize how precious a place is until I not have access to it.
Thank you for creating and maintaining this bastion of wellness - a sacred place for both growth and healing.
Sheila joined The Hot Yoga Spot in 2015.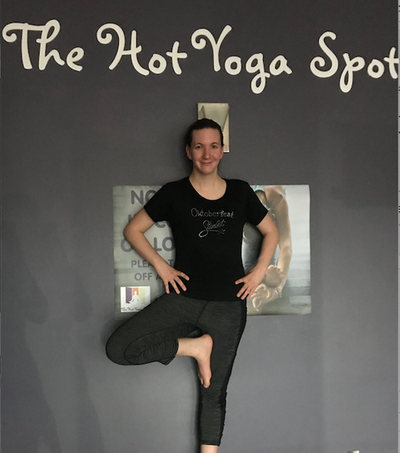 KATE W
Clifton Park, NY
I began my yoga journey on January 1st as a brand new yogi. I try to go everyday, I love the positive energy that I get from the class. When I do (unfortunately) miss a class I feel like I am missing my zen.
I have noticed significant progress just from week to week, not only increasing flexibility but my sleeping. I can now sleep longer and deeper.
Kate joined The Hot Yoga Spot in 2019.