Information for Outdoor Classes
The Hot Yoga Spot is excited to enjoy another season of outdoor classes with our community! These sessions are perfect for anyone who loves fun in the sun as well as those who are not yet comfortable working out inside.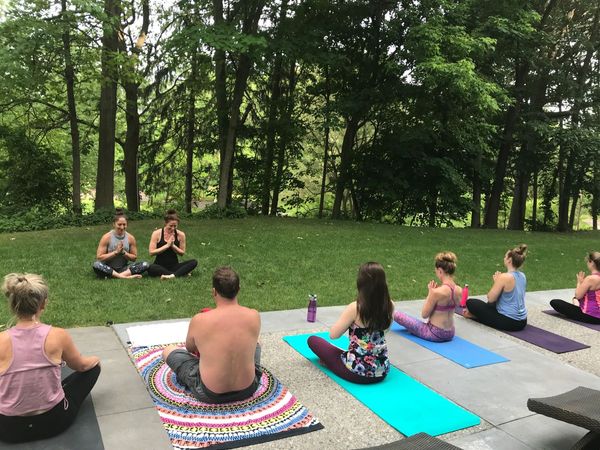 Reservations: Reserve your spot online at least 1 hour before class. We will not be accepting payment in person and will not be allowing unregistered guests to participate. Class may be canceled if spots are not reserved so booking your spot is important.
Inclement Weather: In the event of very cold weather or rain, we will notify reserved guests at least one hour in advance with notice about whether the session is cancelled or taking place inside.
Supplies: We will not have rental mats available so please make sure you bring your own as well as a towel, drink or anything else you want for class.
Albany: The grassy area between 4 & 6 Executive Park. Class will be on the lawn adjacent to the main entrance to The Hot Yoga Spot.
Clifton Park: Clifton Commons - 7 Clifton Common Blvd. Clifton Park. We will be using the area right in front of the stage.
East Greenbush: East Greenbush Town Park - Town Park Rd. East Greenbush, NY 12061. Meet on the circle to the right of the red pavilion.
Latham: The grassy area behind the building. After you drive in the plaza, go to the left and drive around to the back of the building. Park in front of the broadcasting station and walk behind the plaza.
Saratoga: We are meeting at the Spit & Spat Fountain in Congress Park for these outdoor offerings.
We have partnered with events and groups across the Capital region to bring you plenty of opportunities to enjoy fitness outside with a summer full of outdoor fun.
June Farms: Outdoor goat yoga every Saturday and Sunday at 10:00am. Family yoga every Tuesday at 5:00pm. The price varies. Sign Up.
Fitness At The Plaza: Join us on Tuesdays at 5:00pm for yoga and Thursdays at 5:00pm for bootcamp classes in downtown Albany. These are free to attend. Sign Up.
Saratoga Summer Series: Join us on the private outdoor terrace overlooking Congress Park for special sessions with our Saratoga community. These classes are $20 and have the most beautiful view of Saratoga as the backdrop. Sign up.
Stable Gate Winery: Join us at a private vineyard for lovely and relaxing events. Wine & Unwind happens 7/14, 8/11 and 9/1 and are yoga mixed with a wine tasting and light snacks. Yoga Brunch is a yoga session followed by boozy brunch and these sessions take place this summer on 7/25, 8/29 and 9/12. Sign Up.
Yoga Palooza: The Hot Yoga Spot will lead a free, 60-minute, all levels, outdoor yoga class in downtown Albany prior to the start of this year's PearlPalooza event. We invite you to join us for this powerful community yoga gathering. Sign Up.