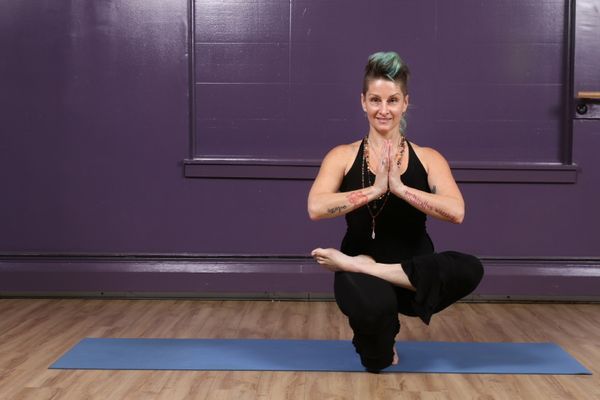 Jennilee
Jennilee began practicing yoga in 1996 and has enjoyed many different types over the years. In 2000 she began to practice Bikram Yoga six days a week, both in Key West and in Massachusetts. In 2002 Jennilee added Baptiste Power Yoga to the mix. By 2003 she decided she wanted to teach this wonderful form of body, mind and soul connecting and conditioning that she had so fallen in love with!
Jennilee was inspired by various AFAA fitness trainings as well as workshops with amazing yogis/yoginis such as Shiva Rea, Ana Forrest, Bryan Kest, Dharma Mittra, Cameron and Liz Shayne of Budokon, Duncan Wong, and Simon Park, in addition to all of her studies in mythology and transpersonal psychology at Pacifica Graduate Institute and Institute of Transpersonal Psychology. Jennilee finds that these inspirations lead her to teach her own distinct and dynamic style of Vinyasa Yoga. Her two week ashram stay and training in November 2008 with Sri Yogi Hari of Sampoorna Yoga deepened her interest and knowledge in the spiritual and scientific study of Hatha, Jnana, Bhakti, Nada, Karma and Raja Yoga.
Jennilee loves practicing and teaching yoga. The journey within is ever so important and the science and practice of yoga helps us to know ourselves, each other and the planet. Yoga quiets the dis-ease of the mind and the body – leaving us happy, peaceful and free.
Jennilee's Schedule: